Welcome to The Directory of Churches In Nigeria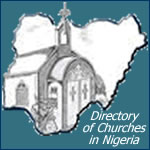 The Directory of Churches in Nigeria is a project that has been in the making for a little while. The primary objective of this project is to have a comprehensive listing of all Churches, Ministers, Schools, Businesses, Health Facilities and all other Christian institutions in Nigeria. This is an Online Yellow Pages for the Christendom in Nigeria.

It is not uncommon for traveling parshioners to have difficulty locating a parish/branch of their church in a new location; also, many people will like to know or contact certain Ministries or Ministers; furthermore, breathren outside the shores of the country may want to get in touch or be a part of the activities of certain missions which they have lost their contacts, all these and other problems are the issues addressed by this website.

It should be noted that www.churchesinnigeria.com is not a replacement for the corporate websites of Churches that have their own website. However, it is an important resource material for all Christian institutions in the country. While someone may not know the web address of a particular Church, such a person can be directed to the desired site from the website of Churches in Nigeria. Also, the site provides adequate information about every Church thereby serving as a website for Churches that do not have one.

Some of the features of this website include: Sermons (text and audio format, by all Ministers who desire to have their sermon online for the benefits of the populace), Articles, Prayer Rooms, Mission Stories, News and Events, a Christian Superstore, Music and Videos and many more.

All Christian institutions should take advantage of this service now!